UV Photography: tips for blacklight.
Blacklight photography can be great for shooting portraits so we are "shedding some light on the dark art" to reveal the secret of mastering ultraviolet photography!
You would most commonly see blacklight, or UV lighting, in nightclubs. White objects radiate with a bluey glow because of the ultraviolet lighting.
Some subjects take on a completely different look when shot under these specialist lamps because of the peculiar visible effect that this form of invisible lighting has on different materials, which makes for surreal effects that are ideal for photography.
To give the strongest effect it needs to be used in a dark room with a black background and it's best suited to studio subject because the light source is quite weak even though UV lighting can be used to photograph most things.
UV lighting can be combined for psychedelic effects to react strongly with make-up, clothes, or props which can be particularly suited to portrait photography. You can obtain UV lights from party suppliers or specialist lighting suppliers and they aren't particularly expensive if you want to invest in some; or perhaps see if you could borrow or hire them.
Choose Your Lights.
Strip lights work the best but for use in normal desk or ceiling lamps you can get a bayonet or screw fit UV bulb for around $5 each. However, ideally you'd need two 20W mains units with a tube costing around $25 each for a balanced effect.
Strap The Lights To Stands.
For ease of positioning you can use gaffer tape to attach the lights to studio flash stands as the strip lights are designed for wall lighting. You can place one on each side of your model (preferably blonde for that effect!). Ona standard backdrop support stand you could use a theatrical black backdrop placed behind to emphasise your model and/or props.
Get Set To Go Slow.
The aperture needs to be set open to f/4 or wider and the ISO will need to be increased to at least 800 because in a blacked out room the lighting is going to be weak. 1/2 to 1 second long with be the typical length of your exposure. Be mindful to hold as still as possible during the exposure as you position your model on a stool in frame.
Check For Sharpness.
You can expect to have to delete at least 75 per cent of the pictures you take as subject movement is common with such long exposures. To make sure you have some that are sharp make sure you take lots of frames. When reviewing on the LCD zoom in to check!
Use A Reflector.
It's worth while using a white or silver reflector to bounce back some light in order to ensure that the features are lit adequately as the strip lights need to be placed close to the model's face to be effective. It is recommended to use a silver surface on a Lastolite TriGrip to achieve the desired effect.
A Rainbow of Colour.
Readily available in a huge range of colours at fancy dress shops is UV makeup and face paint. This is useful but to avoid areas burning out in the photograph you need to be quite subtle with the application due to the bright glow that this produced under the lights.
Experiment With Materials.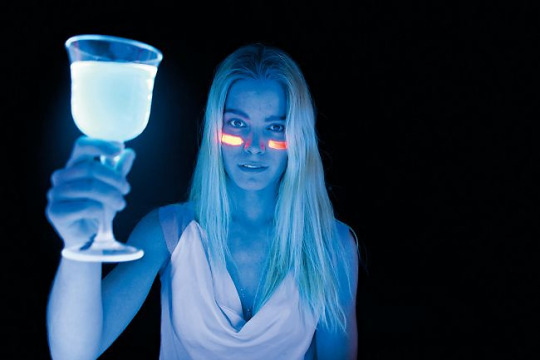 To see which works the best it's worth trying different items from your wardrobe or store since it isn't easy to predict exactly which materials will react best under the UV light. The tonic water in the glass in the shot above is a good example of a totally unexpected success but light-coloured manmade fibres and flouroplastics work well too.
So, that's our guide to creating light sensations with UV light experiments. Shed some light on your dark art!
Words by Elijah (Content Marketer) via Digital Camera World.